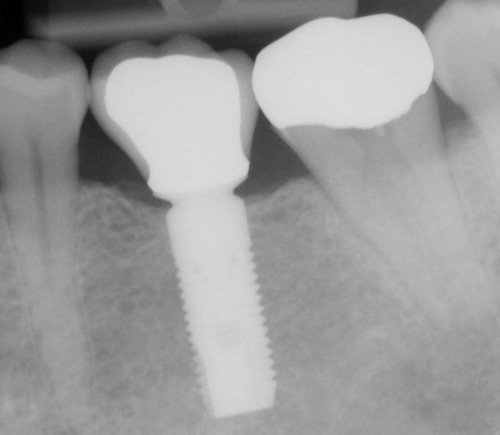 X-ray showing an implant with custom abutment and crown.
"A picture is worth a thousand words", and that's especially true when taking care of your teeth! We will show you your digital x-rays on an iPad or the computer screen. These high-resolution images make it easy to understand your current level of oral health, as well as what areas could be improved. No more looking at tiny pieces of plastic film!
It's important to know that the radiation from dental imaging is very minimal. A radiograph only gives two microsieverts (μSv). This is equivalent to the radiation that you receive just from spending four hours indoors (from drywall, dust, granite, etc).
Why should I get x-rays?
X-rays are an inexpensive method for finding problems in their early stages. This includes cavities, tooth fractures, calcifications, gum and bone problems, abscesses, tumours, sinus problems, and other pathologies.
We offer dental imaging using:
Phosphor plate x-ray technology, which is as thin as a conventional film
Intraoral macro camera viewing with European technology
High end professional Nikon

DSLR

photography
Cone beam CT (referral to the oral surgeon's office)
Did you know? Dr. Protzer wrote his doctorate thesis on radiation. If you're also really curious about radiation, our Patient Resources page has some informative links.
Together we use these tools to show you your needs as well as the final result. They truly are "conversation starters" here at the clinic!