A dental implant is a titanium dowel that is surgically placed into the jaw bone. This allows the replacement of a single tooth or multiple teeth.
And no, implant placement does not hurt. Most implants can be placed in our office. In some very difficult cases, we will refer you to an oral surgeon for evaluation and placement. If you want to participate in sports or work the next day, no problem!
We have been placing dental implants right here in our office since 2007.
Dental Implant Solutions
Are you missing a single tooth?
An implant with a connector (the "abutment") and a crown is usually the best solution.
Implant with abutment & molar crown Click link above to view photo.
Are you missing several teeth in one area?
Two or more implants with abutments and connected crowns or a bridge is likely the way to go.
Are you missing all teeth in one jaw, especially the lower jaw?
We'd probably recommend two or four implants in connection with snaps or a bar and an overdenture. Another option is four to six implants and a non-removable "hybrid" prosthesis. This is a complex situation and requires more discussion. Please contact us for more information.
Implant supported lower complete overdenture Click link above to view photo.
Start to Finish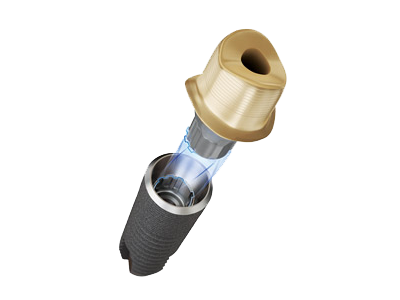 Custom Atlantis® abutment on Osseospeed EV® implant. Image courtesy of Dentsply Sirona.
Since we place dental implants in our office, in most cases you will not need to see an oral surgeon or visit the hospital for this procedure. In fact, it is much easier to drill a hole into bone than into a tooth! The discomfort after placement is minimal, and usually a lot less than a tooth extraction.
Just as importantly, this allows us to make sure the work performed is up to our high standards for the entire procedure, from placement through to the restoration phase (see below).