Sleep Apnea means that during sleep there are episodes of not breathing that are longer than 10 seconds each.
These episodes can be mild (5-15 episodes per hour), moderate (15-30/hour), or severe (more than 30/hour). This measurement is called the Apnea-Hypopnea Index, or AHI.
There are three types of Sleep Apnea: Obstructive, Central, and Combined. Obstructive Sleep Apnea (OSA) is a lot more common than Central Sleep Apnea (CSA).
Obstructive Sleep Apnea means that the airway (neck, soft palate, tongue, and throat tissues) is diminished.
Central Sleep Apnea means that the brain tells the body not to breathe.
Combined Sleep Apnea is a combination of both

OSA

and

CSA

.
OSA is very hard on the body. It raises blood pressure and causes multiple health problems. Obstructive Sleep Apnea (OSA) kills many people every year, through blood pressure problems, drowsiness while driving, and other causes. In the US estimated figures are around 40,000 OSA-related deaths per year.
The National Highway Traffic Safety Administration has stated that drowsy driving is responsible for, at the very least: 100,000 car accidents; 40,000 injuries; and 1,550 deaths per year.
Some quick OSA facts:
6 out of 10 men aged 60 or older snore. 2 out of 10 have

OSA

.
Over 1,000,000 Canadians have

OSA

, though only about 10% are diagnosed.
Undiagnosed

OSA

can cost $1,500 per year or more (medications, hospital stays etc.).
Snoring can be one of the first symptoms, as well as fatigue and drowsiness. Diagnosis is done by a Polysomnogram (PSG). Tests include the Epworth Sleepiness Scale and the STOPBANG questionnaire.
Treatment options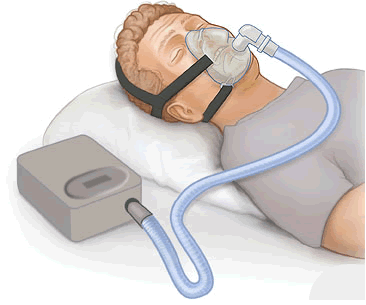 Treatment options for Sleep Apnea include:
Continuous positive airway pressure machine (

CPAP

)
Surgery (used only in very select severe cases)
Oral Sleep Apnea Device (

OSAD

)
Many people who are diagnosed with Sleep Apnea abandon the use of the CPAP machine, mostly due to its noise and discomfort. This poses a huge risk to the patient!
In the last decade, CPAP has been the main treatment for OSA. However, there now seems to be a shift away from CPAP towards Oral Appliances (OSADs).
An Oral Appliance is called an OSAD (Oral Sleep Apnea Device), also called MAD, MRD, MAS, MRA, or OA. Basically a lot of fancy abbreviations for a device that is moving the lower jaw forward and therefore opening the airway.
Please note: if you have a denture, an OSAD may not work for you.
Even for severe cases OSADs are becoming increasingly common. In some severe cases dual therapy (CPAP as well as OSAD) can be used.
Please talk to your physician about the possibility of OSA. If you snore or have been diagnosed with OSA, ask your doctor for a prescription for an OSAD. Many extended health plans cover some or most of the cost of an OSAD.
For your extended health insurance, the prescription by your physician should read: "This patient requires a mandibular repositioning appliance for Obstructive Sleep Apnea."
For more information about (OSA), check the Patient Resources section of the American Association of Dental Sleep Medicine website or read an overview on Wikipedia.
Treating OSA Infographic
For a quick overview on treating OSA, check out this handy PDF infographic titled Treating Obstructive Sleep Apnea, published by the Canadian Agency for Drugs and Technologies in Health.
Getting Your
OSAD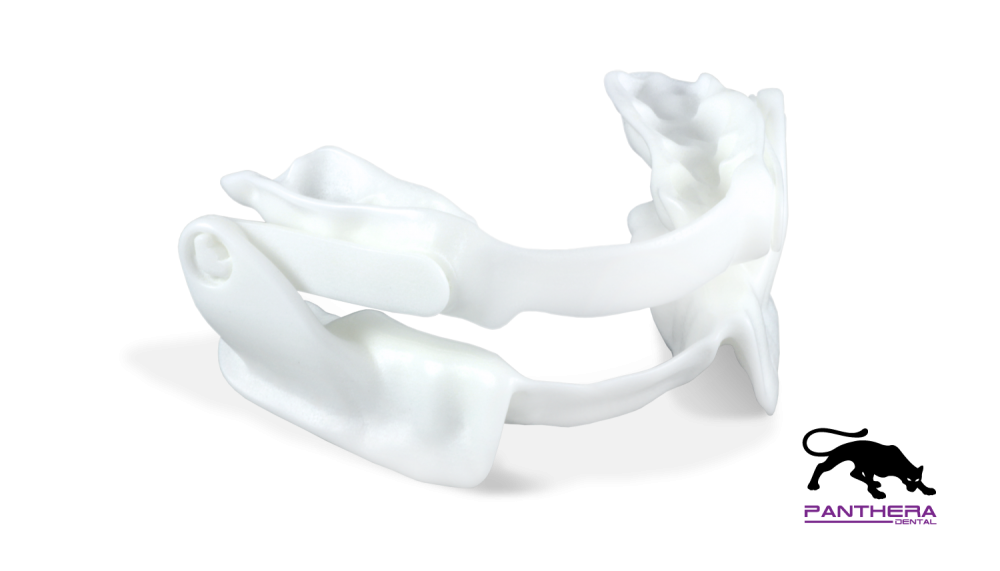 We can help you to get the sleep you deserve by fabricating an OSAD that is custom fit to your teeth. We will also instruct you on the proper wear of the device.
We recommend an appliance fabricated by Panthera. It is 3D printed and made from Nylon 12. It is durable and quite thin.
This appliance is (in our opinion) much better than traditional OSADs, which are not as durable and are considerably thicker. Some dental clinics charge up to $4000 for such a device. We charge around $2000.
The Process
It is important that your teeth are in a good shape. This means that you should have had a recent checkup, and that you have no necessary dental treatment in the foreseeable future.
Most likely your physician has asked you to have a somnogram (sleep study). However, if you just snore and need an appliance, a prescription from your physician may be enough.
Do I need a prescription to get an OSAD?
Yes. Regardless of if you have had a somnogram (sleep study) or not, you will require a prescription from your physician for an OSAD.
What does my physician's prescription have to say?
"The patient requires a mandibular repositioning device for Obstructive Sleep Apnea."
Once you have your prescription, the process typically takes three appointments:
First, we start with a consultation appointment.
Next, you will come in for a second appointment for impressions and a special bite registration. (This appointment takes about 30 minutes.)
We will then send your impressions to the lab (Panthera in Montreal) for fabrication. They require about 3 to 4 weeks to fabricate the appliance.
On the third appointment we insert the appliance, as well as explain its care and other details. We may use different length rods (the connectors) to fine-tune the appliance. This process is called titration.
Ideally, a follow up with us, or your physician, or even another somnogram (sleep study) is recommended to ensure that the appliance is doing its job.
Is sleeping with an oral appliance uncomfortable?
No. In fact, we find that most patients get used to the appliance after just one or two nights.
Payment & Insurance
The consultation bears a cost of $100.
The appliance itself is around $2000.
Half of the payment is due upon taking the impressions, the other half upon insertion.
This is a medical appliance,

NOT

a dental appliance.
If your insurance covers the appliance, the insurance will reimburse you.
We will assist you with your extended health insurance.
Insured with Pacific Blue Cross?
If your insurance is Pacific Blue Cross, a form has to be filled out by you, your physician, and us. Start by downloading the Pacific Blue Cross OSAD form and bringing it to your doctor.
OSAD

Checklist

Here are the questions you will need to answer before making an appointment:
Do you have a prescription from your physician for an

OSAD

?
Do you have a copy of your sleep study to bring in?
Have you filled out our New Patient Intake Form?
Are your teeth in good shape?
Is there dental treatment needed?
Do you have a denture? (If yes, that may complicate things)
Are you ready to proceed with an

OSAD

?
Do you have your extended health insurance information?
Contact us to learn more or book your appointment.