Veneers are thin shells of porcelain that are bonded to teeth to improve their colour and shape. A veneer generally covers only the front of a tooth. The colour and shape is chosen to maximally enhance the esthetics of your smile.
Veneers can be used to:
Close spaces between teeth
Lengthen small or misshapen teeth
Whiten stained or dark teeth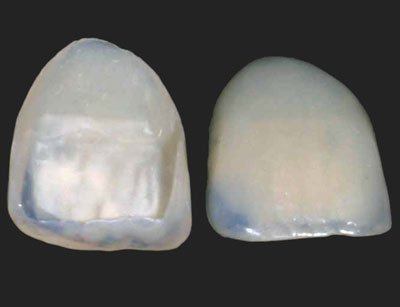 Example of a dental veneer. (source)
The procedure involves the reduction of the front surface of usually four or six front teeth (removing approximately 0.5 to 1mm) and then taking an impression of your teeth. At a second appointment, the custom-made veneers are bonded onto the prepared surfaces.
If the teeth have large fillings already, are broken, or if extra stabilization is needed, partial or complete porcelain crowns are excellent restorations to strengthen teeth.
When teeth are chipped or beginning to wear, veneers can protect them from damage and restore their original appearance.